We have three convenient offices in Findlay, Columbus and Cleveland, Ohio. We offer the best possible workmanship, the industry's highest quality products and competitive rates. Sealtek Asphalt offers a variety of asphalt services, for both parking lots and driveways. Such as overlays, crack filling, sealcoating, line-stripping and asphalt repair. Sealtek Asphalt is licensed & insured with professional references.
Conversely, there is good evidence that drugs such as Viagra can be used to enhance erections after surgery and that, even if such drugs do not work for example if the nerves have been removed to maximise cancer clearance mechanical devices such as vacuum pumps, cavaject injections into the side of the penis or MUSE therapy small tablets inserted into the end of the urethra are effective http://www.maleviagra.com/
Call our dedicated sales team at 800-440-7709 for more information.
[
Why is sealcoating important?
]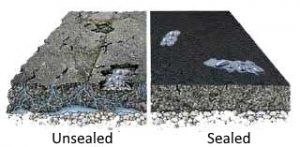 Sealcoating is the most cost-effective solution that prevents further deterioration and enhances the beauty of your asphalt. Sealing will allow the pavement to have a much longer life than that of an unsealed pavement. Even on a weak pavement, sealcoating will preserve the elastic and adhesive characteristics of the asphaltic binder and seal out the water and oxidizing effects of the sun, salts and petroleum spillage. This coating preserves the pavement surface, and the asphaltic and aggregate layers will remain dry and in place. The process of deterioration begins as soon as the asphalt is put down. In normal conditions after 3-5 years major deterioration is taking place.
FOR MORE INFORMATION CONTACT US
[
What makes us the best?
]
Sealtek Asphalt Sealing is the gold standard in pavement maintenance. We have the best:

We use MasterSeal by SealMaster due to the results we have seen over a long period of time.

We use state of the art equipment and vehicles to achieve the best results when sealing and striping.

As a locally owned and operated company, we know Ohio and it's sealing challenges better than anyone else.

We're dedicated to providing our clients with a professional and straighforward experience at an incredible value.